ISL: Bangalore's first win over Chennaiyin
Waiting for the decisive victory of Bengaluru FC in the sixth season of Hero Indian Super League (ISL) finally ended in the fourth match. Former champions Chennaiyin FC win the match, Bengaluru scored the first victory at home.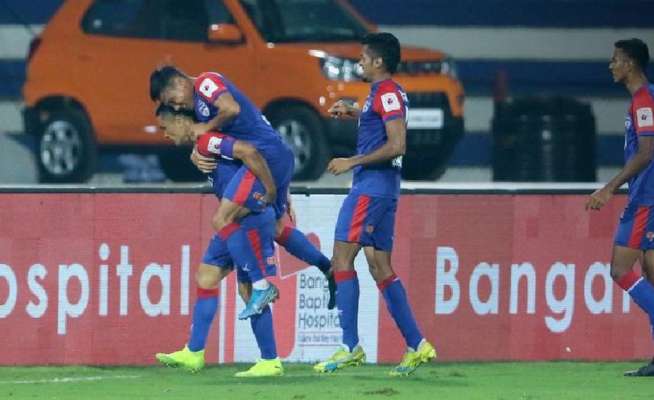 Erik Partaloo, captain Sunil Chhetri scored at the Sri Kantirava Stadium in the first, and substitute Semboi Haokip scored in the second half. On the other hand, Chennaiyin not only won the decisive victory but also waited for the goal. This is the only team that has not scored a goal this year.
Playing under Spain's Carles Quadrat, Bengaluru finished sixth with four wins and six points in four matches. While progressing to number three, Bengaluru outpaced Odisha FC, Kerala Blasters FC and Mumbai City FC (4 out of 4 matches of three teams). ATK leads the team with 9 points from 4 matches. Chennaiyin suffered its third defeat in four matches. The team is ranked 10th in the bottom line, scoring one point.
This was the last fight before the first international break of 13 days. Both teams looked forward to a decisive victory. Bangalore had three matches to spare, while Chennaiyin had to face only three matches and two defeats.
Bangalore wins the race to open an account. They got a corner in the 14th minute. Dimas Delgado hit it perfectly, and Partaloo made the heading as well.
After opening the account, Bangalore's mood increased. Their second goal was on a reversal. Rafael Agusto gave a long and accurate pass. Skipper Chhetri hit the ball on the first attempt. His blow was so wonderful that Chennaiyin goalkeeper Vishal Keith didn't get a chance to block the ball even at a close post.
With six minutes remaining, Semboi scored on a late advantage from Chennaiyin defender Eli Sabia. Chhetri's attempt in the second session was briefly hooked.
Bangalore had started aggressively, but Keith's agility had put them at the start. In the fourth minute, Kathy was stopped by Uttali's header on Rahul Bheke's throw-in. The next minute, the whale threw in a little too far. Agusto handed the ball over to Juanan, controlling it in the chest, but Keith fumbled the move as well. He stopped the ball with his left foot.
Chennaiyin's first notable attempt was in the 43rd minute. Andrea Shembry made the jump and headed for the lead after Edwin Wanspoll's cross pass from the right, but he was unlucky. So Bengaluru goalkeeper Gurpreet Singh had nothing to do. Chennaiyin's frustration continued.